Last night I went to see Tame Impala at Webster Hall. It was the first time in a long while that I'd been to Webster Hall for a show. Hillary and I were discussing before the show what we'd seen there and I remembered Modest Mouse and The Shins and I'm not even sure about those. In any case, last night's show was great! A friend working the dorr got our crew VIP badges so we had access to the section on the balcony (Thanks!).
A band called Yawn opened the show and we caught the last two or three notes, so I can't comment on them. Yuck was the second opener. I had heard good things about them so I wanted to get there to check it out.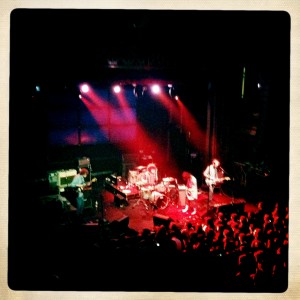 I had listened to some of their songs on Hype Machine earlier in the day so I recognized some of their music at the show. The lead singer had a curly mop on his head and sang out of the corner of his mouth. The rest of the band consisted of a male lead guitarist/backup singer (who sang lead on one song), a female bass player (playing an Ampeg microstack, which was super cute and sounded great), and a male drummer with a magnificent fro. The songs were song-y and catchy at times. They had a good vibration, sometimes getting a but 90's alt-rock. I commented that one of the songs could have been played in the credits of a Dawson's Creek episode, had they existed then. I give them a solid 6 out of 10.
Tame Impala was altogether a different story. They are also a four-piece with one lead singer/lead guitar, bass, drums, and a rhythm guitar/keyboard player. The singer, Kevin Parker, is squarely in charge of the whole affair; it's clear he's running the show.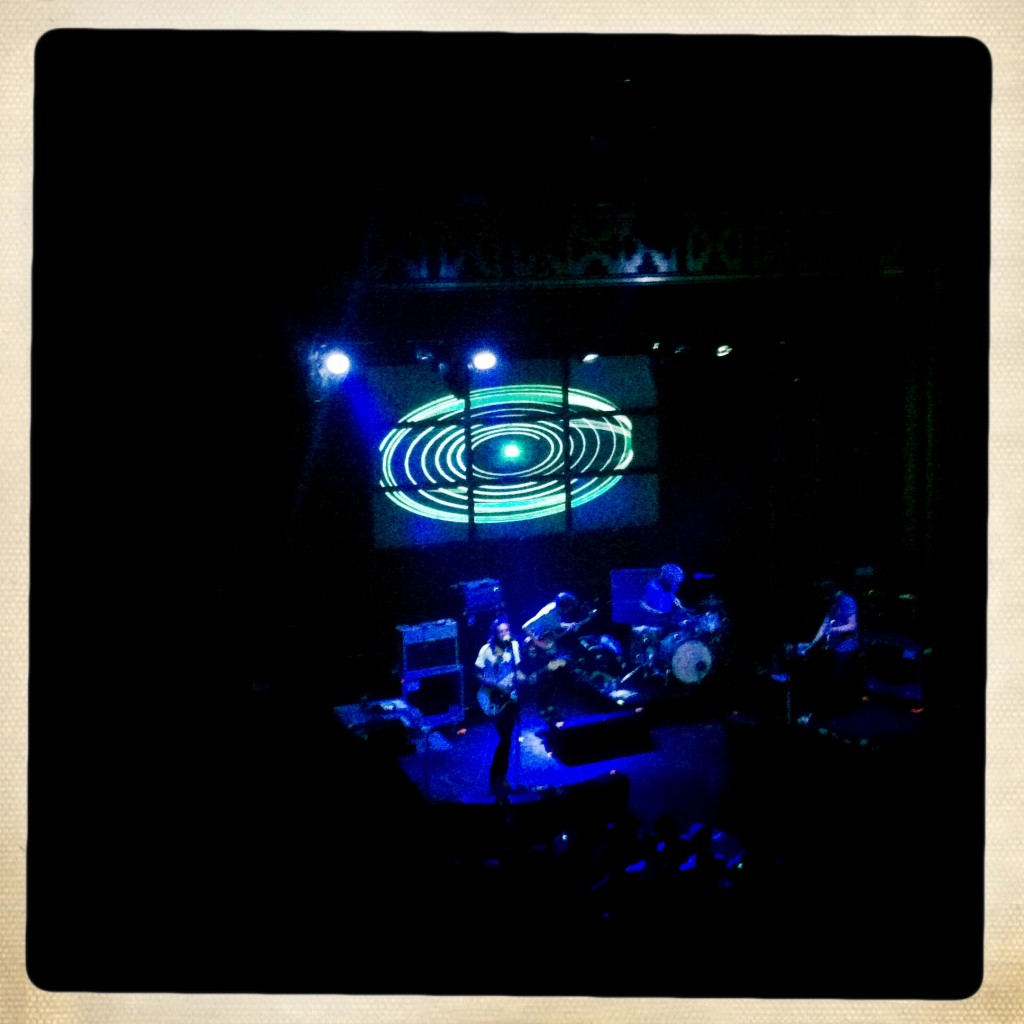 They play music that is self-described as "psychedelic hypno-groove melodic rock music," which is pretty apt, except for the "hypno" part. They are in my group of bands I keep in an iTunes playlist called "psych-today," contemporary bands that are playing psychedelic-type music. Their style is more polished, tighter, and less gritty than some of the other bands doing that sort of thing (like Dead Meadow, Black Mountain, White Hills) and have a more happy-tinged mood as well. They have a tendency to jam and stretch things out but they never really get lost or messy. Some of their best songs, "It's Not Meant To Be" and "Desire Be Desire Go" got live-show embellishments that were welcome in my book. They took the form of a new, semi-related coda riff or an extended section to provide for slight improvisation. They didn't really jam in the way that a jam band like Phish would, but they did extend parts of songs longer than their recorded versions. I was into it. Many of the songs featured segue-ways between them, some of which seemed like they could have even been mini-compositions in themselves. I'm a big fan of that kind of thing. Song, song, song, without stopping is a good way to keep the energy up.
The elliptical pattern on the backdrop was actually a camera facing the screen of an oscilloscope which was being fed by various instruments at different times. Sometimes it was the guitar, other times the bass or snare drum. I thought that was a good effect. There was a time when Kevin just sat on the stage playing random guitar notes in en effort to evoke different patterns on the screen. That was interesting for about 30 seconds and could have lasted longer had he played something more interesting than a scale. So, they were a but self-indulgent at times, but, on the whole, it didn't detract from their performance.
A final aspect that served to keep them good in my book (and especially Martin's) is the no-encore policy. Before the last "suite" of songs Kevin announced the policy and said that after the next group of songs they would stop and leave the stage and not come back. Here is a good article about how silly encores are. Tame Impala gets an 8 out of 10 for me.