Two nights ago I went to MoMA with Hillary, Dan, and Nicole to see Kanye West perform at the annual Garden Party after party. It was pretty epic.
The beginning didn't start of so great though. The line to get in stretched down 53rd street, up 5th avenue and back around and up 54th street. We arrived at 9:00, when the event was supposed to begin, and, fortunately, Dan and Nicole were already there in line somewhere on 53rd street. The line took forever because it seemed that MoMA had never planned an event before. But, as you can tell by the adjective, "annual," above, they have done this before. More on this, below.*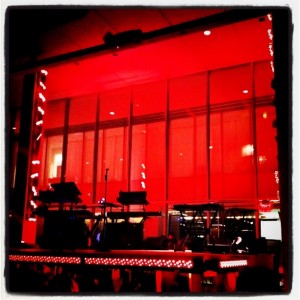 We finally got into the garden and made a bee-line for the bar. I got two bourbons and two glasses of wine as Dan simultaneously got four bourbons. We consolidated our drinks into three bourbons and a wine and made our way to the stage.
At exactly 11:01, Kanye took the stage.
I have to make a disclaimer. I don't own any Kanye records or even that many hip hop records beyond Beastie Boys, The Roots, Run D.M.C., or . I've also never been to a hip hop show, so this was all new to me, besides the fact that have heard some of Kanye's songs. How could I not have. Hillary and Nicole are way into it and Nicole, in particular, loves My Beautiful Dark Twisted Fantasy. I'd heard "Monster," "All Of The Lights," "Lost In The World," "H.A.M.," and more that I can't name. So I knew some of what I was hearing, bit definitely not all of it.
Kanye had a "band" of one DJ and two nerdy white guys who played keyboards and a guitar. (They spent most of the last song videoing the action on their iPhones.)
Kanye played a bunch of songs from Fantasy and probably some others too. It was great and I really loved it. For an introduction to hip hop shows, this probably was a good one.He had a lot of energy at times and was more melancholy at other times. Between songs he shouted out to some in the crowd who must have been in the museum upper levels and then shouted out to the homes across 54th street and their "free show." He definitely put a lot into the show. Towards the end he did an ad-libbed sing/talk coda in "Lost In The World" about how hard his life is and how he's persecuted for being an asshole. He mentioned accusations of racism talked about his mom. It prompted me to send a twitter photo entitled "He's sorry if he was an asshole ever to you." Poor guy.
After the rant/cry a very special guest joined Kanye on stage: Jay-Z!
They did "H.A.M." and then "Empire State Of Mind."
Jay-Z was young-looking, had longer hair, and smiled the whole time. The crowd was really amped up and it was great. Jay-Z is a much better rapper than Kanye (imho) and really took the show to a whole new level. What a way to end!
I give the whole thing an 8 of 10. I'd do it again.
* Apparently, last year they mailed the wristbands to the people who bought tickets and they were able to just show up and walk in. No, not this time, that seemed to have worked too well. This time they decided to create 5-6 lines in the lobby ordered by a section of the alphabet. You had to find your line (which really wasn't easy since they were formed at a slant to the counter) then a volunteer would flip through a box of envelopes until they found the one with your name on it. There was no indication whether all the wristbands bought together would be in the same envelope or in different envelopes. There also was no indication whether the wristbands would be in an envelope with your name on it or with the name of the person who bought the tickets. Nobody told us because those who knew, didn't know we didn't know. This is why the process–once you got into the building–took so long. And that was why the line moved so slowly. I just wonder whether the people at the end of the line got in before Kanye started. It sounds like I am a complainer now, but it was really infuriating at the time–not least because it could have been organized so much better.